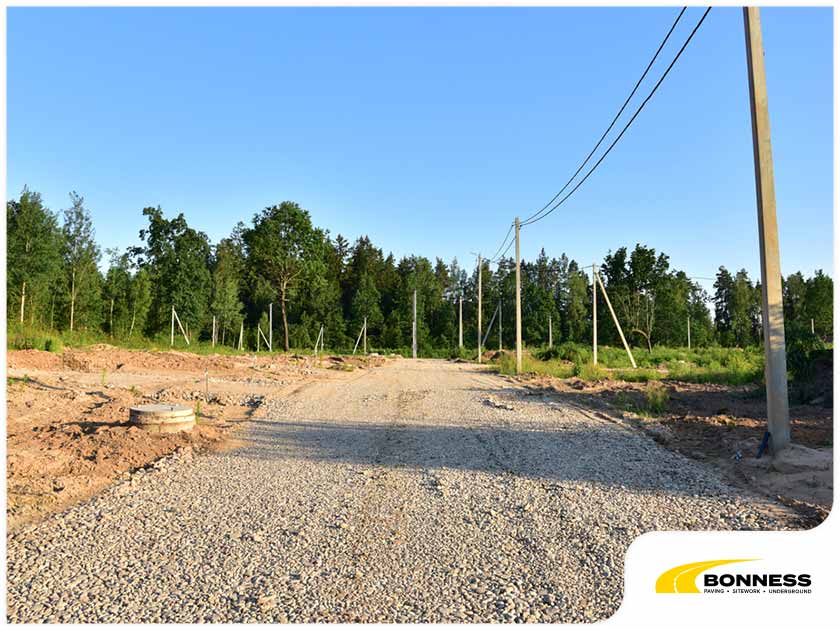 Grading is an essential, especially for driveways and other civil construction projects. Have you ever walked through a rainy parking lot and had to weave your way around all of the puddles? Have you ever had rainwater in your garage because of a strong downpour? If that's the case, you've come upon an area that wasn't properly graded or pitched. What are the things you should keep in mind about driveway grading?
Purpose of Grading in Driveways
Grading assures a level foundation for your driveway's construction and is crucial for a properly functioning one. It is also done during the construction of your home's lawn and land as well as when roads are built. The land must be cut or filled, leveled and correctly pitched to allow for water runoff to grade in preparation for installing an asphalt driveway or parking lot.
The grading of a driveway is the slope's gradient in relation to the drive's horizontal length. Flat driveways have no grade at all. However, a driveway with a significant grade, where the slope incline is quite steep, is also possible. In this case, grading is the process of determining the driveway's gradient; you might have a zero gradient for a flat driveway or a high gradient for a roadway with a crown in the middle.
Importance of a Graded Driveway
The purpose of driveway grading is to provide proper drainage and avoid problems caused by excess water. If the driveway was completely level with no slope, water would have a difficult time draining away from the surface, resulting in water collecting in the middle, making the annoying puddles you see on some roads.
This is especially problematic when the driveway is edged because an edging that is higher than the driveway and does not have a suitable grade might cause floods. After all, the water isn't draining properly. Because of the typical wear and tear on the driveway, regular gravel grading is essential as potholes and channels can form in the gravel as vehicles apply pressure on it, degrading the driveway's surface.
Contact Us!
Bonness is a family-owned and -operated, full-service paving, sitework and underground contractor dedicated to serving the needs of homeowners, condominiums, businesses, communities, contractors, developers, counties and municipalities. Our team is a diverse group of highly motivated individuals who are dedicated to providing the highest level of service in the industry.
For any inquiries, contact us at (239) 597-6221, or fill out our contact form to request an appointment. We proudly serve clients in the State of Florida.