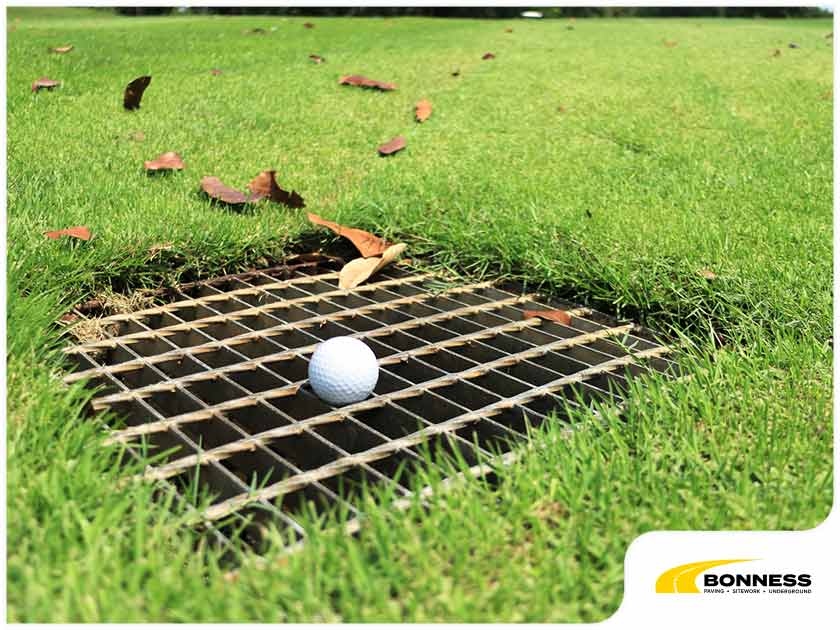 Golf course officials and owners will have to deal with drainage problems in their putting green at some point. When overlooked, these issues can negatively affect the course's playability and appearance, which in turn, can affect business as well. Today, we answer some common questions about drainage.
1. Why exactly is drainage in golf courses important? Proper drainage ensures that water is removed from the playing surfaces of the course. This allows the green to remain playable after, and even during, a heavy downpour. Because it eliminates the potential of water accumulating into puddles, effective golf course drainage can also prevent damage to the turf.
2. Where do you start with proper golf course drainage? The first thing you need is a drainage master plan created by a reliable drainage consultant. This includes a visit to the site and drawing up a drainage plan that takes into account the low points, valleys, slopes, wetland areas and watercourses of the fairway. This plan will cover every aspect of the project, including a comprehensive analysis of its issues. This way, your contractors can come up with a design that can effectively meet the specific drainage needs of your golf course.
3. How does golf course drainage work? Once your drainage experts identify and record which wet areas to be drained, they'll start work on determining where the surface water may be entering the play area, and where to collect this water before it reaches its destination. Drain pipes, culverts and catch basins will have to be installed, and this is influenced by a number of factors. These include soil types, budgets, shade and existing irrigation systems.
4. What goes into the cost and labor estimates of golf course drainage? The amount of material that will have to be moved at each drainage site is typically the basis for approximating total labor hours, the number of workers required for the project, drainage materials and necessary equipment.
You can count on Bonness to provide the highest quality solutions to your drainage needs. Customer excellence is also our priority, so when you ask us for the cost of concrete driveway or drainage project, we will always give an honest and direct answer. Expect only a safe and worry-free process when you work with us. We proudly serve the areas in and around Naples, FL. Call us today at (239) 597-6221, or fill out this contact form to schedule your consultation.