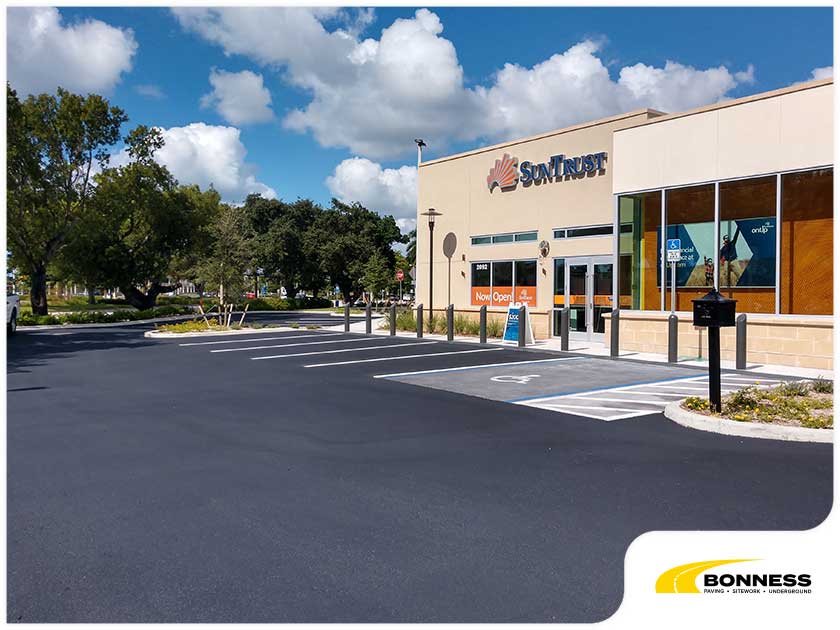 A good parking lot involves much more than just clearing some space and painting some slots on it. To help you understand what's involved with it, we discuss the process of planning and building a parking lot.
Preliminary Planning
The first step in creating a parking lot building plan is to measure the parking lot dimensions, which can be obtained through property legal descriptions, existing survey records or manual measurements. A rough layout can be created to define ingress, egress and parking slots, and doesn't necessarily need to be drawn to scale.
The rough plan can next be refined to scale, adding components like lighting, utilities and safety features. Accessible parking, as well as parking for bicycles, can also be added at this point. Engineers will then need to determine the pavement structure and what kind of layered system would work with it.
Hiring a Contractor
While it's not uncommon for property owners to come in cold and work with a contractor without a plan, a preliminary plan can help you find the right contractor by soliciting estimates. It's not exactly the same as comparing estimates for the cost of concrete driveway, but the key principles are there: look beyond the contract price, confirm the contractor's credentials, and make sure that the parking lot complies with applicable building codes.
Building the Parking Lot
Drains and similar substructures are first built as most of these will be covered by multiple layers of aggregate later on in the process. The subgrade soil in the lot needs to be compacted at the proper moisture level. Each layer of material will then be applied and compacted. For parking lots that will cater to large vehicles like trucks, thicker pavement sections will be required.
Asphalt mixtures will also be mixed according to the purpose of the parking lot, taking into account that parking lots experience less vehicle movement and, therefore, will require layers with different composition. The contractor will apply every layer as required by the project plans until the required top grade is completed. Markings will be applied after this.
In our next post, we will continue with parking lot design principles. In the meantime, if you have questions about this or other topics like asphalt driveway cost, call Bonness at (239) 597-6221. You can also fill out our contact form to schedule an appointment.