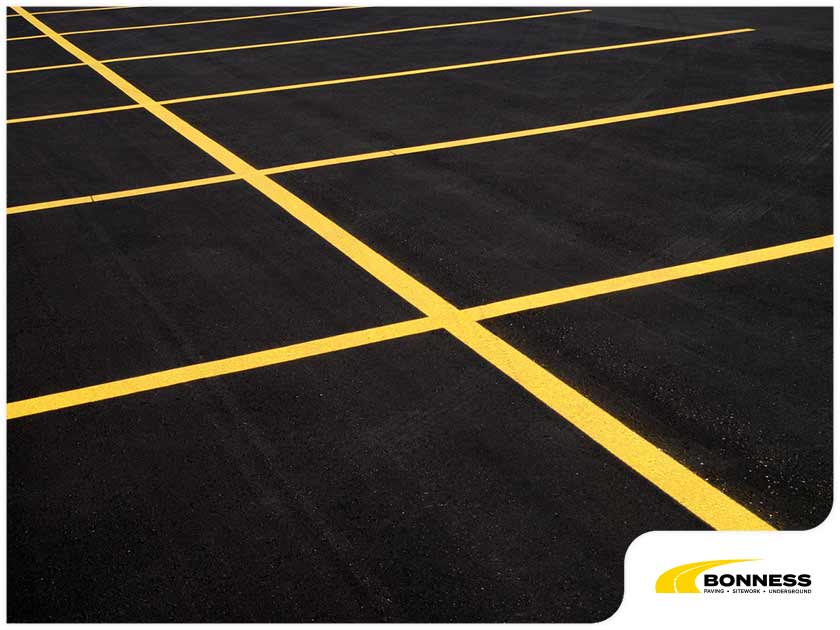 Driveway installation and parking lot maintenance can be a bit overwhelming, which is why it's always a good idea to work with a reliable company like Bonness. Answering questions, whether it's about asphalt driveway cost or the pros of different paving materials, is part of our service. And, if you want tips on how to make sure your new asphalt parking lot ages gracefully, we can help you with that as well. In fact, let's get you started right now:
First, you need to understand its life cycle. An asphalt parking lot has a standard life expectancy of up to 35 years. But it will sustain wear and tear over time. By doing the bare minimum in terms of maintenance, there's no actual guarantee that your asphalt parking lot can even last that long. That's why it pays to take measures that help keep it in good condition through every phase of its 35 years.
Keep the parking lot surface smooth, tough and waterproof. During the first five years of your new asphalt parking lot, you should consider having a high-grade emulsion sealer applied to its surface for greater waterproofing action. If the asphalt is still freshly laid, put up signs that advise drivers to be cautious when driving along it. To prevent denting in the newly laid asphalt, avoid parking in the same spot every day.
Seal coat and re-strip the asphalt paving regularly. This helps protect it from water damage, improve the quality of crack repairs, enhance its overall appearance and prolong its life. Consult trusted parking lot and driveway contractors for these tasks when the paving has reached its seventh year.
Deal with common parking lot problems. In its fifteenth year, the asphalt parking lot may develop cracks and potholes. Investing in routine repair and maintenance services, such as crack filling, patching and seal coating, can help mitigate them. In its twenty-fifth year, the issues may have worsened, so have the parking lot overlaid with new asphalt and its paving re-stripped. When it has reached its thirty-fifth year, have it completely removed and replaced.
Bonness is always ready and able to assist you with your parking lot and driveway installation or maintenance needs. Look no further than us for the highest quality paving solutions and parking lot services in Naples and the rest of Southwest Florida. Call us now at (239) 597-6221, or fill out this contact form to schedule your consultation.