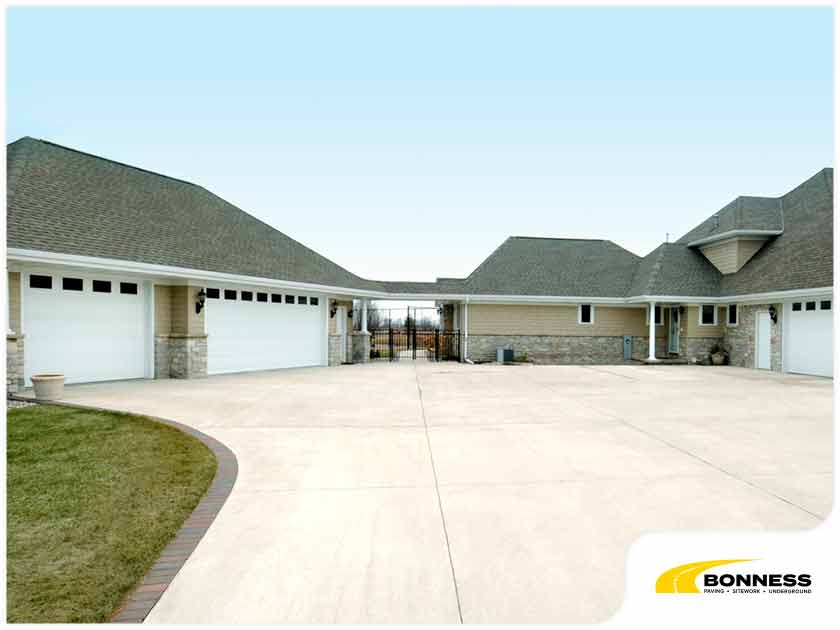 The driveway contributes greatly to the overall look of your property. After all, it's the first thing that guests see when they approach your home. If you want your driveway to create a great first impression, you'll have to make sure it's sized properly. But how wide should your driveway be, exactly?
The General Rule of Thumb
Your driveway should be wide enough to accommodate vehicles without hitting any landscape features or building structures. The standard driveway width for a residential property should be at least 10 to 12 feet. This is acceptable for a single-car driveway. But make sure to leave enough space on both sides of the driveway so the car can turn around easily. The extra space also ensures that, when you have to step out of the vehicle, you'll be planting your feet on the driveway instead of the lawn.
Driveway Widths for Multiple Vehicles
If you own 2 vehicles, the recommended driveway width is between 20 to 24 feet. Twenty feet should be able to accommodate two cars parked side by side, but the width won't be enough to allow both car doors to open. Twenty-four feet, however, should offer sufficient space for two vehicles to open their doors while positioned next to each other.
As for 3-car driveways, between 20 to 30 feet is the ideal width. Again, you'll need to account for opened car doors, so if you have enough space, go for a wider driveway. Note that some factors may affect the size of your driveway. That's why it's crucial to consult a trusted specialist like Bonness, who can provide a customized solution and answer any questions, such as the cost of concrete driveway.
Ideal Width for Circular Driveways
Some homeowners go for a circular driveway, which comes with distinctive horseshoe-shape design. If you plan on having one built on your property, then make sure its width is at least 12 feet. This should be sufficient to allow a vehicle to drive forward and around without having to negotiate the turn.
Schedule a Consultation Today
As a trusted driveway installation company, Bonness aims for your complete satisfaction. We're always ready to answer any questions you may have, from ideal sidewalk materials to asphalt driveway cost and width. Expect only a worry-free experience when you turn to us. Call us now at (239) 597-6221, or fill out this contact form to request a quote. We proudly serve Naples, FL, and other areas in Collier County.