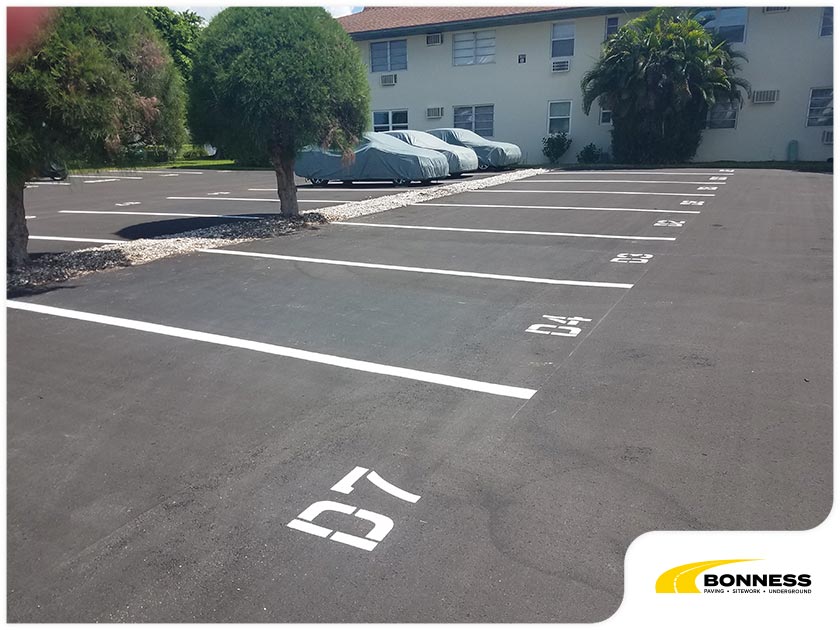 Parking and driveway contractors working on a parking lot for a commercial property understand what makes a humble parking lot welcoming, comforting and convenient for people working at or visiting a business. Tenants often want to take a look at the building's parking area before they decide to rent space in that building.
One of the most obvious parts of a parking lot is the striping. What makes parking lot striping important? Find out below:
The Parking Lot Has to Comply With the ADA
You might notice that every parking lot you see has several slots reserved for the handicapped. This is in compliance with the American Disabilities Act (ADA). Without parking lot striping, there might be confusion as to where your handicapped employees or customers are supposed to park. It is also against the law.
Your Parking Lot Will Be Safer for Pedestrians
Parking lot striping makes it more obvious that the area is a designated parking space. Parking lot striping also informs pedestrians where they can safely walk and cross. An accident happening in your parking lot exposes you to the possibility of a lawsuit.
Striping Guides the Flow of Traffic
The cost of building a commercial parking lot is likely to be higher than an asphalt driveway cost because it's a lot bigger and can hold a lot more vehicles. With all of those vehicles, the direction of traffic should be controlled to prevent confusion and accidents. Parking lot striping can guide the flow of traffic in a particular direction. Not only does this make the parking lot safer, but it also helps prevent delays.
Striping Makes the Parking Lot Look Better
A parking lot without striping or with faded, almost absent striping looks gloomy. It might even make your building look abandoned. This is why striping matters to your building's appeal too.
Your Parking Can Hold More Cars
Without striping to guide drivers, they can park just anywhere they want. This can limit the spaces where cars can fit safely. Striping allows drivers to choose a slot to park without making it difficult for other cars to fit beside them. It also guides drivers who have difficulties in parking straight.
Get in touch with Bonness for information on how we can help you build a world-class parking lot. You can also ask us about the cost of concrete driveway construction. Call us at (239) 597-6221, or fill out the form on this page.