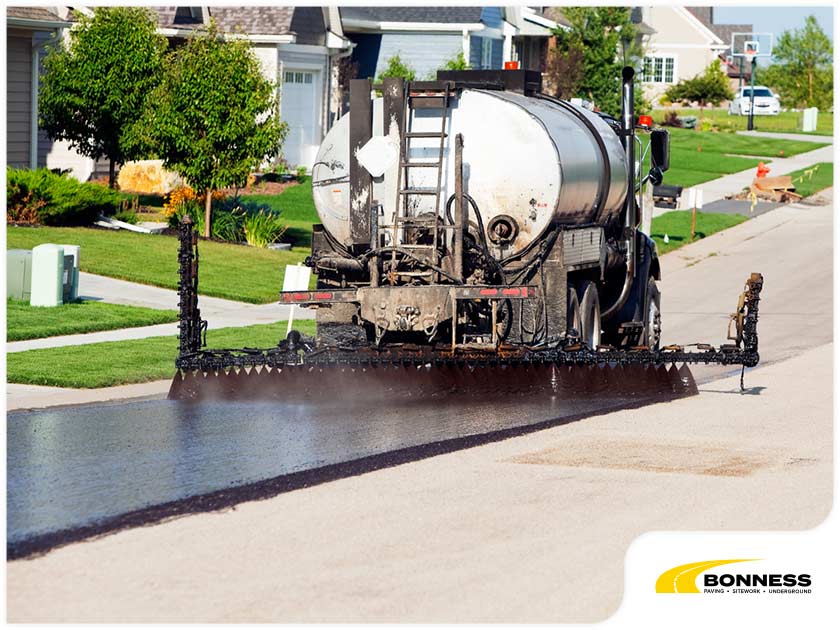 Many homeowners these days choose sealcoating to protect their asphalt pavements. For a better driveway, you might want to sealcoat it as well. However, your driveway contractors will advise you that there are things to consider before applying this process, such as the temperature and weather. These factors play a major role in the application process of sealcoating.
At Bonness Inc., we provide quality service for your sealcoating needs. To achieve your ideal driveway, we will guide you on how sealcoating can contribute to its protection and how the weather condition can make a huge impact during application. 
Sealcoating and How It Can Help Your Driveway
Why is sealcoating important? Pavements with no sealcoat are prone to sun damage. This causes openings in your pavement, leading moisture into the deeper layers of the asphalt. Since moisture can penetrate the pavement, this will widen and deepen cracks. Sealcoating can be a solution to that. By applying a sealcoat on your asphalt pavement, it becomes resistant to damage from water and sun exposure.
Before anything else, however, the first thing you need to do is hire an expert contractor. They will be able to answer all your questions, from asphalt driveway cost to pavement maintenance. When it comes to sealcoating your driveway, they will advise you to choose a day when the weather condition is ideal for its application. The weather condition will help in determining how the sealcoat material adheres to your driveway as well as how it quickly dries and cures. 
Sealcoat Your Driveway When It's Warm and Dry
When you schedule your sealcoating project, check the weather forecast for that day. Take note of the temperature, humidity, sunlight and wind ahead of time to avoid problems. Even the temperature of your driveway surface can be a big factor. 
It is suggested that the sealcoat is best applied when the temperature is between 55 and 90 degrees Fahrenheit. The temperatures of the surface and the air must not be lower than 55 degrees Fahrenheit within 24 hours of sealcoat application. This is to avoid increasing the drying time and affecting the performance of the finished coating. 
Additionally, the pavement should not be wet. If it rains on the day of the scheduled sealcoating, you have to delay it until the weather is clear. If you apply your sealcoat when it's raining or if you do not follow the recommended temperatures, the sealcoat won't attach to the surface and function well. Thus, make sure the weather is warm and dry for the best results. 
For inquiries regarding sealcoat application or cost of concrete driveway, get in touch with Bonness Inc. Call us at (239) 597-6221, or fill out our contact form to set an appointment.