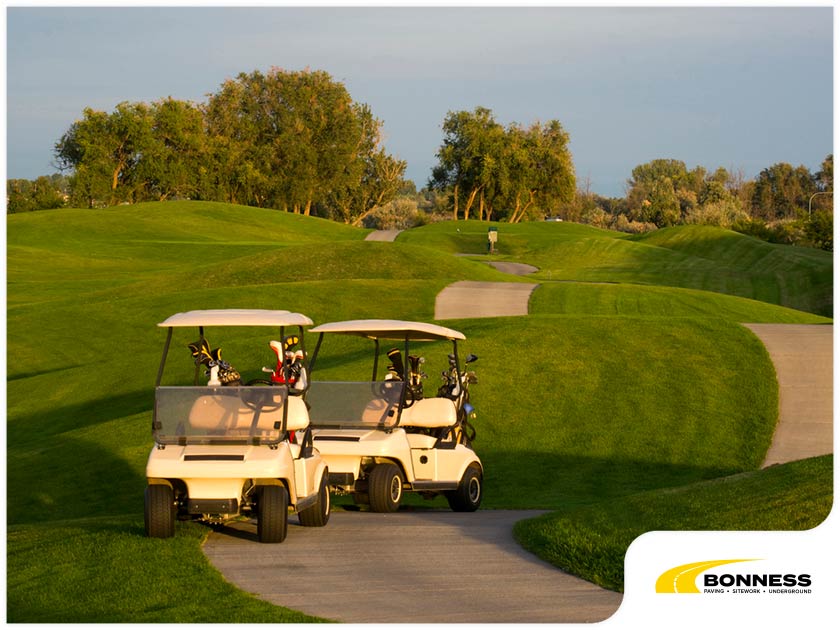 Bonness has served the driveway installation needs of Southwest Florida property owners for over 30 years. So, whenever you need a detailed quote to determine asphalt driveway cost and other crucial details, you know exactly who to call. But did you know that we also handle golf cart and bike path installations? This type of project has quite the number of special considerations, some of which we'll discuss here:
A Few Things About Golf Cart and Bike Paths
These pathways are intended specifically for – you guess it – golf carts and bikes. Compared to a standard pavement, which can take repeated vehicle loading, they are generally thinner and come with a smoother surface. They may accommodate the occasional maintenance light truck without sustaining damage, but as much as possible, these pathways should only be used for non-motorized traffic.
Special Considerations for Their Installation
Because these pathways are markedly different from standard pavement, their installation will involve a number of special requirements. For instance:
The paths should have a fine textured surface so that cyclists and pedestrians will have an easier time using them. Reliable path contractors can help you decide on the aggregate type and size that will suit your needs.
The golf cart and bike paths should be designed with a minimum slope of 2% or 0.25 inches per foot. Anything lower makes the slope difficult to construct while increasing the risk of pooling water during the rainy season.
The pathways should be eight feet wide at the minimum. Anything less makes the installation costlier and more challenging.
These pathways should be clean and seamless, which means that there should be no growing roots from nearby trees directly beneath the path location. When left unchecked, these roots can poke out of the pavement and compromise not only the path design, but also biker and pedestrian safety.
Call Us Today
Bonness is always ready and willing to answer any questions about your project, whether it's the cost of concrete driveway or requirements for bike path installs. After all, we want you to make more informed decisions and get the most out of your paving upgrade. Call us today at (239) 597-6221, or fill out this contact form to schedule a consultation. We proudly serve Naples, FL, and Collier, Lee and Charlotte counties.